Deadline to Register:
Wednesday, December 6, 2023 - 8:30pm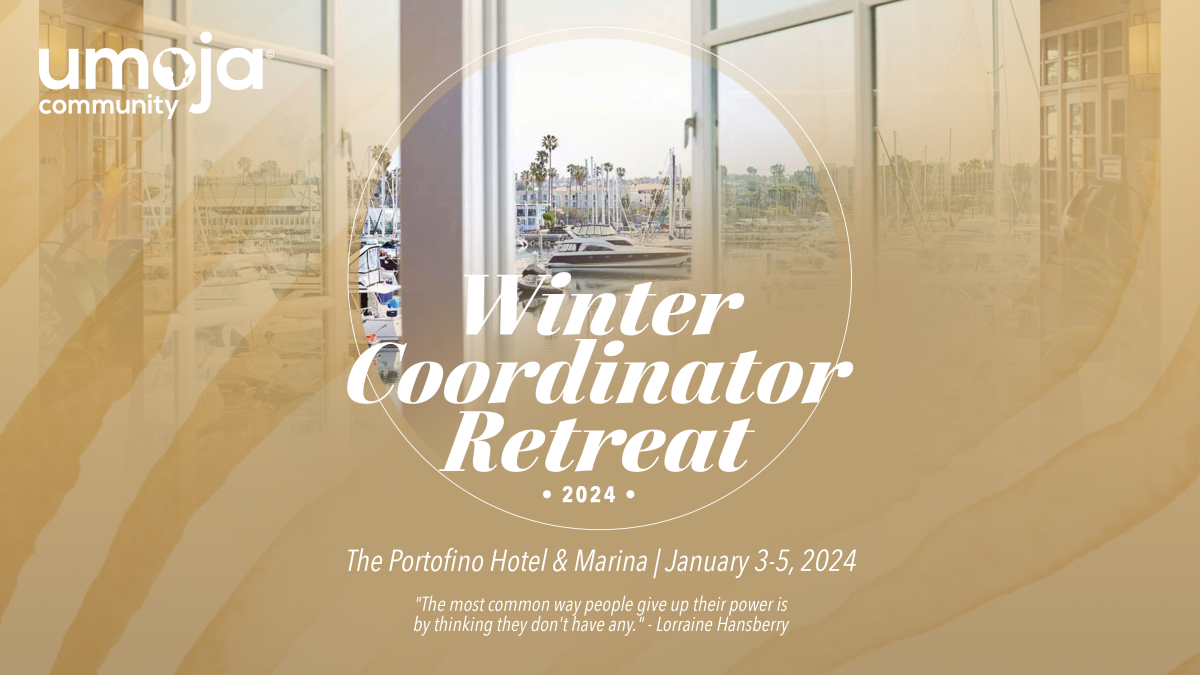 The Umoja Community Education Foundation is excited to welcome all Umoja Coordinators to the 2024 Annual Winter Retreat. The Winter Retreat is a convening of the Umoja community coordinators to set the tone for the year and collaborate and share strategies with other Umoja practitioners and partners.
Location: Portofino Hotel & Marina | The Portofino Hotel & Marina | 260 Portofino Way | Redondo Beach, CA 90277
Hello Umoja Coordinators!
Below is the link to reserve your hotel room for the 2024 Winter Coordinator Retreat!
Note that registration will close on December 6, 2023.
For this event, we will accommodate one Umoja Coordinator (Primary) with a complimentary single or double occupancy room (for January 3-5, 2024) based on availability and one complimentary registration per campus. If you have multiple coordinators who serve as Co-Coordinator for your program, one additional coordinator will be required to pay their own registration and lodging costs. The maximum of coordinators that can attend the event per campus is a total of two coordinators.
All registered attendees will receive:
2 Breakfast Meals
2 Lunch Meals
Light Refreshments throughout the experience (Coffee, Tea, etc)
All participants should expect to cover their dinners
Important Travel Information:
Travel expenses will be the responsibility of attendees. This includes flight, ground transportation, and parking.
All participants will be responsible for making their own hotel arrangements and will need a credit card on file for incidentals. Complimentary nights will be adjusted prior to checkout.
* Coordinators at California Community College campuses with an established MOU
**No campus or partner organization may have more than 2 representatives. Space is limited for this event.
Travel:
Where are you located?
The Portofino Hotel & Marina is located at 260 Portofino Way in Redondo Beach, CA, situated on a lush, secluded peninsula in King Harbor. Both the family-friendly seaside playground of Redondo Beach and the neighboring city of Hermosa Beach are blocks from our front door.
How close is the hotel to nearby attractions, parks, and shopping?
Redondo and Hermosa Beaches are home to many nearby attractions, making us one of California's best beach vacation spots. Sailing, surfing, shopping, and entertainment are all within a few minutes of our hotel. Most area attractions can be explored on our complimentary beach cruiser bikes.
What details do I need to know about your complimentary beach cruiser bikes?
The local oceanfront bike path here is flat and runs for over 27 miles up to Malibu. Our complimentary beach cruiser bikes are available in one hour increments, based on availability, to all guests staying at the hotel. Bike rental is also available from 8:00am to 5:00pm. Complimentary bike locks, baskets and helmets are also offered, based on availability. Guests will be asked to sign a waiver before checking out a bicycle.
Is there transportation available to/from the airport?
The Portofino Hotel & Marina is happy to arrange transportation to and from the airport. Feel free to contact South Bay Yellow Cab to arrange for airport pick up on (800) 924-8294. For town car or luxury transportation, please contact our front desk at 310-379-8481. Our front desk can help arrange a private sedan or SUV with our BLS partner.
Does your hotel provide parking?
Yes, parking is complimentary.
Is there a place to charge my electric car?
Level 2 Electric Vehicle charging is available at Marina Bike Rentals. Marina Bike Rental is located 0.3 miles from the hotel front doors at 505 N Harbor Dr. Redondo Beach, CA 90277. Please call 888-998-2546 for more information. Standard fees apply.
Is there high-speed internet or WiFi available at the hotel?
Complimentary highspeed WiFi is offered in all guestrooms and public areas of the hotel.
Does the hotel offer ADA compliant rooms?
Yes! The Portofino Hotel & Marina offers five marina side ADA accessible guest rooms. In addition to all or most features of the corresponding non-ADA room type, these rooms include: ADA door viewer, roll in shower, shower grip bars, an ADA compliant closet with a lower height, an ADA compliant A/C thermostat at lower height, and a wheelchair accessible balcony.
What recreational amenities does The Portofino Hotel & Marina offer?
Our front desk has plenty of family-fun beach accessories, chairs, and towels for purchase or rent. Complimentary beach cruiser bikes are available in one hour increments, based on availability, to all guests staying at the hotel. Tickets to Hollywood Tours, Universal Studios, and Aquarium of the Pacific can also be arranged. Amenities and tickets are based on availability.
What are the restaurants in the hotel?
BALEENkitchen, our marina-front restaurant at The Portofino Hotel & Marina, is where fine dining meets California coastal chic. Come see why Zagat named BALEENkitchen "One of the Top 10 Best Restaurants for Waterside Dining in LA." For reservations, call (310) 372-1202.
Enjoy a cool drink and sweeping views of the Pacific in BALEENlounge. Open daily for breakfast and dinner, BALEENkitchen's hip bar area is your evening hotspot for chilled cocktails, tempting small plates and live music entertainment in Los Angeles' South Bay.
End your day in SoCal style in The Living Room and Craft Cocktail Bar. Enjoy sweeping views of the Pacific with a refreshing craft cocktail in hand from the comfort of our newly updated furnishings and decor. Your imbibing can also be paired with fresh dishes from the full BALEENkitchen menu.
Do you have onsite laundry service?
We provide overnight laundry services. Laundry bags and order forms are located in each guest room closet.
Does the hotel offer smoking/nonsmoking areas?
All areas of the Portofino Hotel & Marina are 100% smoke-free.
Is there a fee to use the Fitness Center?
24/7 access to our Fitness Center is included in your amenity fee.
Do you allow pets?
The Portofino Hotel & Marina allows service dogs in all hotel rooms and public areas. Apartment tenants may be granted pet permission with an additional pet deposit, based on availability.
I love The Portofino Hotel & Marina. What if I never want to leave?
You're in luck! Full time residence is available through our Apartment Rental Office. Six month minimum stay required. Prices range from $2,700/ month to $5,500/ month. For availability and pricing please contact: porapartments@hotelportofino.com.
Do you have open boat slips in the Portofino Marina?
Our 181-slip ADA accessible harbor marina features state-of-the-art docks. Slip lease includes two parking passes per slip, onsite laundry, updated restroom facilities, access to our hotel pool, 24 hour fitness center, business center, and a discount in our restaurant. Please contact Elina de Laroche at 310-798-5869 for information and availability.
I have questions about my bill. Who do I call?
Please contact our accounting department at 310-798-5878.
What initiatives has the hotel taken to go green?
The Portofino Hotel & Marina has initiated an effort to improve our environmental performance in all aspects of operations. We're committed to preserving our location's beauty and conserving our natural setting. Here are some of the things we're doing to make sure it stays that way:
Our guestrooms predominantly use fluorescent bulbs and have motion sensors that turn off lights to save energy.
Hotel room televisions use energy efficient LCD and LED backlighting.
Sensors in the room will turn on and off the air conditioning unit if a door or window is opened (on when you enter, off when you leave). Our sophisticated air conditioning system also senses when there is more than one person in the room to provide additional cooling.
Our ultra-low flush toilets use less than half the water as a regular toilet.
Our room keys are made with special biodegradable stock instead of regular PVC. Recycled paper is used for all printed materials when possible.
BALEENkitchen uses local products and fresh, seasonal produce whenever possible.
We use green practices when caring for the restaurant and hotel grounds by fostering a friendly habitat for native flora and fauna.
Safer cleaning products is very important. We have shifted to more cleaning products that are made with bio-based oils and other natural cleaners.
Our custom-formulated bath amenities are not individually packaged. By using larger bottles, we are able to cut down on the amount of plastic we use.
Additionally, The Portofino's complimentary beach cruiser bikes make it easier to leave the car at home. Explore Redondo Beach and reduce vehicle emissions. Thank you for helping us reduce, reuse, and recycle. Enjoy your stay!
Property Map